Have you thought of video remote interpreting in Brazil ? Virtually all segments are being impacted by the advances of the digital age. As an example, higher education or technical education that was previously restricted to classrooms, is now accessible through digital platforms in distance learning courses. With simultaneous translation, the same thing happens, every day there are new solutions and innovations.
Business meetings now often take place remotely, online, using audio or video. There are several systems and applications that allow for speedy communication, right? Skype, WhatsApp, Google Hangouts, not to mention even more targeted digital platforms. Nowadays there are events and congresses being done via internet. Attentive to this new format of simultaneous translation and the new trends of the interpretation market, we also  work as a simultaneous translation agency online, or better yet, with remote interpretation.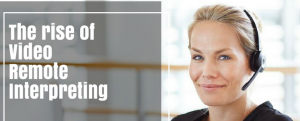 Recently we translated an International Poultry Congress, a very important event in the industry. We did the simultaneous translation remotely; the interpreter remained in her own office, translating the whole event through a specific application.
During this congress, Vivian Haynes did the simultaneous translation from São Paulo, while the other interpreter worked from Santo André, alternating with Vivian every 20 or 30 minutes. Both Vivian and André could see the room where the event was taking place in Chicago on our monitor, as everything was transmitted by video..
Remote simultaneous translation is a possible solution for your business
If you work with events or your company is organizing an online congress with different nationalities, you may need interpreters. Depending on the challenge and the logistics, it is possible to have more than one interpreter doing the translation of your event remotely, which makes the process more agile without interpreters having to travel, saving for the organizers or sponsors of the event.
Thanks to partnerships with American companies, we have state-of-the-art technology, different possibilities and innovations to offer the best in video remote interpreting in Brazil, now in a more practical and fast format, to attend events around the world.